You are currently browsing the category archive for the 'quilts' category.
Recently I heard from Rebecca Knauer, from the Cabarrus Quilter's Guild in Concord, North Carolina.
Last year, they had asked permission to use my Celtic Pieced Illusions book and technique as the basis of their guild's mystery challenge.  (Would you believe all these Celtic Pieced Illusions quilts are created with just to blocks?!?  To see more about the book, click on the link above.)
I was honored (and more than a little bit thrilled!) they wanted to use my technique and quickly gave my permission.
The guild has been working on their Mystery/Challenge quilts all year and they were displayed this weekend at the guild's quilt show.
Rebecca wrote me about the show and to share their quilts.  They look fantastic!  I couldn't wait to share them with you.
Here's a sneak peek. . . you can see more on my Karen Combs Studio Facebook page. 
I've thrilled to have several patterns with Cut Loose Press!
Refractions
 Block a Bye
and several others.
You can see the patterns I've designed for them, at their brand new website, by clicking here.
AVAILABLE AT YOUR LOCAL QUILT SHOP
Cut Loose Press™ patterns are only available at independent quilt shops and online retailers around the world.  Be sure to ask about them at your favorite shop.
If you love Celtic designs, but would rather piece than applique your Celtic designs, then this is the book for you! With only two simple blocks, unlimited Celtic designs are possible.
In the book, I share piecing tips, show design possibilities and show how to use color to add the illusion of transparency to the quilts. The book  also contains design information to help you create your own, unique Celtic Pieced Illusions quilt, fabric selection tips, complete sewing information and full color diagrams for 14 quilts.  If you would like to peak inside the book, click here.
This book will not be reprinted and I have purchased the remaining stock of this book. If you have thought about getting this book, this is the time. When the remaining stock is gone, the book will be out-of-print.
Don't forget, this makes a perfect gift! If you have a friend who loves Celtic designs, they will love this book.. Don't miss out, order your book today, while supplies last!  You can order the book on our webpage at our online store.
Video: Celtic Pieced Illusions
Want to see a little more from the book?  Let me show you some illusion tricks and piecing tips.Click here to view the online video clip. 
We've decided to make some of our patterns downloadable!  We've started with a few and will be adding more very soon.
Please visit my Etsy Shop to see all the current downloadable patterns by clicking the link below.
If you are a member on Etsy, please "favor" my Etsy Shop, follow it and follow me.    I would appreciate it so much.
Thank to all for your support!
So excited to see Keepsake Quilting has my new "Quilt Trails -Landscapes" fabric line and quilt kit in their new catalog!
I'm looking forward to AQS Quilt Week in Chattanooga in September.  The registration opens June 14th.  . . . and the classes are sure to fill quickly!
I'm teaching some new classes – my new Pick Up Sticks patterns is one of them and I'm crazy about this new quilt.
My Ice Crystals quilt  is another new class.  (Love this quilt!)
Yet another new class is perfect for beginners: Tumbling Blocks Fun!  If you have wanted to learn how to create a tumbling blocks quilt, but were afraid to try it, this is the class for you!
Chip Out of Every Block
and my Transparency class are two more classes I will be teaching.
You can see more information by clicking here: AQS Quilt Week – Chattanooga
I hope you will be able to join us, it is a wonderful location, beautiful convention center and I know we will have a blast in class!
Alaska Cruise – August 19 – 26, 2017!
In August, 2017, we will be traveling to one of my favorite destinations – Alaska!  I've been there 3 or 4 times already, but can't wait to go back!
A cruise to Alaska is a perfect way to see this amazing landscape.   We will be traveling to and from Seattle on this 7 day cruise.   There's something wonderful awaiting you in every port of call:
Juneau – In Alaska's capital, taste salmon baked over an alderwood fire, pan for gold, flight-see the Juneau Ice Field, and visit the Mendenhall glacier.
Sitka – Step back to the days of Russian Alaska as you watch lively performances of the New Archangel Dancers and view holy paintings of the Czarists' days. Plenty of wildlife adventures await!
Ketchikan – Immerse yourself in Tlingit Indian culture as you view the world's largest collection of totem poles or kayak the colorful waterfront. Visit Creek Street and see Alaska as the early pioneers did.
Victoria, B.C. – Stroll through the charming downtown of this very British city. Or, just outside the city, visit the lush flora and fauna of Butchart Gardens.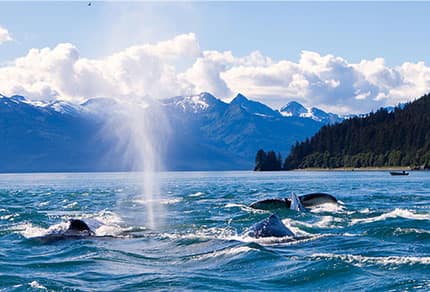 You can play tourist, choosing your pleasure, whether it be walking, touring, flight-seeing or shopping. All the ports we visit are directly in town, and there is a lot to see within walking distance, and the best part. . . quilt shops in every port! (Better take an empty suitcase with you!)
There are a wide variety of classes from which to choose, taught by myself, Laura Wasilowski, Gloria Loughman and Linda J. Hahn.  Sewing machines will be available for your use on board. You will even have the chance to purchase a new machine at a great price!   I've love to have you join us for this fantastic cruise!
For more information about the cruise, classes and ports of call, click here to visit Quilt Seminars at Sea. 
You can contact Amy at Amy@QuiltCruises.com or call 1-866-573-6351.
Have you ever wondered what happens on a "quilting" cruise?  Click here to visit my blog for some details.