You are currently browsing the category archive for the 'On the Road' category.
I'm looking forward to AQS Quilt Week in Chattanooga in September.  The registration opens June 14th.  . . . and the classes are sure to fill quickly!
I'm teaching some new classes – my new Pick Up Sticks patterns is one of them and I'm crazy about this new quilt.
My Ice Crystals quilt  is another new class.  (Love this quilt!)
Yet another new class is perfect for beginners: Tumbling Blocks Fun!  If you have wanted to learn how to create a tumbling blocks quilt, but were afraid to try it, this is the class for you!
Chip Out of Every Block
and my Transparency class are two more classes I will be teaching.
You can see more information by clicking here: AQS Quilt Week – Chattanooga
I hope you will be able to join us, it is a wonderful location, beautiful convention center and I know we will have a blast in class!
Alaska Cruise – August 19 – 26, 2017!
In August, 2017, we will be traveling to one of my favorite destinations – Alaska!  I've been there 3 or 4 times already, but can't wait to go back!
A cruise to Alaska is a perfect way to see this amazing landscape.   We will be traveling to and from Seattle on this 7 day cruise.   There's something wonderful awaiting you in every port of call:
Juneau – In Alaska's capital, taste salmon baked over an alderwood fire, pan for gold, flight-see the Juneau Ice Field, and visit the Mendenhall glacier.
Sitka – Step back to the days of Russian Alaska as you watch lively performances of the New Archangel Dancers and view holy paintings of the Czarists' days. Plenty of wildlife adventures await!
Ketchikan – Immerse yourself in Tlingit Indian culture as you view the world's largest collection of totem poles or kayak the colorful waterfront. Visit Creek Street and see Alaska as the early pioneers did.
Victoria, B.C. – Stroll through the charming downtown of this very British city. Or, just outside the city, visit the lush flora and fauna of Butchart Gardens.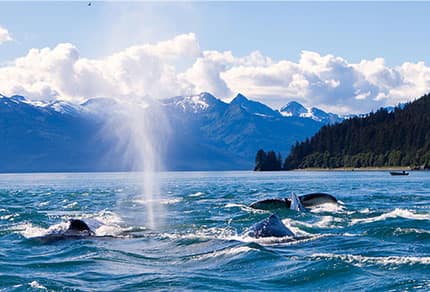 You can play tourist, choosing your pleasure, whether it be walking, touring, flight-seeing or shopping. All the ports we visit are directly in town, and there is a lot to see within walking distance, and the best part. . . quilt shops in every port! (Better take an empty suitcase with you!)
There are a wide variety of classes from which to choose, taught by myself, Laura Wasilowski, Gloria Loughman and Linda J. Hahn.  Sewing machines will be available for your use on board. You will even have the chance to purchase a new machine at a great price!   I've love to have you join us for this fantastic cruise!
For more information about the cruise, classes and ports of call, click here to visit Quilt Seminars at Sea. 
You can contact Amy at Amy@QuiltCruises.com or call 1-866-573-6351.
Have you ever wondered what happens on a "quilting" cruise?  Click here to visit my blog for some details.
One more blog post, from our amazing Batiks and Bali trip with Quilt Seminars at Sea!
After 2 weeks of cruising around Indonesia, seeing amazing sights and buying lots of batiks, it is time to return to Singapore.
We had planned a fun evening tour with our group around Singapore, so we boarded a bus, to take us from our ship to the Marina.
Fun sights on on of the food trucks in Clark Quay
Time to board a boat, for a lovely sail around the Mariana.
The Singapore Merlion, by night
Beautiful skyline!
Our last stop, a fun "Tri-shaw" ride, with our group, around the city. Here we are, all lined up!
One of my favorite photos of Rick and I.
Farewell to our fantastic group!  It was a blast to be with you!
Our trip is finished, time to fly home, filled with memories of all the sights we saw and all the new friends we made.  It was a fantastic trip.  A big thank you to all those who joined us for this wonderful journey and for Quilt Seminars at Sea and Troy Corporation/Riverwoods Collection for making it possible!
Ready for a few more photos from our quilting cruise, Batiks and Bali, with Quilt Seminars at Sea?
We had another tour planned with our group.  This time, it was a stop at Komodo Island. . . . the home of Komodo dragons!
Beautiful scenery, as we sailed up to the island
Yes, that is a Komodo Dragon, a stone one.  Let's see a real one!
Our guide, ready to lead us into the jungle, to see the Komodo Dragons.  The other guide has a forked stick, just in case the dragons get too interested in us.  (Happily, the dragons were happy to just lay in the shade and didn't pay us much attention.)
A few dragons, resting.
This one was a little interested in us!
After our tour, it is back to the ship and more beautiful scenery.
Our next tour with our group on our Batiks and Bali quilt cruise with Quilt Seminars at Sea was Bali!
We had a another very special tour planned with our group.  A visit to a Ikat fabric mill!  It was simply fantastic!
Yarn being spun
Design for fabric being set-up
Fabric design is finished
Some of the finished fabric, being used in a slip cover and in clothing
Piles of Ikat fabric!  (At a fabric market. . . which one do I choose?)
more photos from the fabric  market
After all that shopping, its time for a lovely lunch!
Our lunch was at a beautiful resort
Beautiful buffet, ready for our group!
Such a lovely place for lunch with our group!
After two days in Bali, a perfect way to relax. . . a beautiful sunset.
Our next port on our Batiks and Bali quilt cruise with Quilt Seminars at Sea was Semerang.
We were greeted at the port by dancers.
Boarded our tour bus and had a very special morning!  We spent the morning at a batik mill, learning how the cloth is woven, designed, wax drawn on by hand, or stamped and then dyed.
fabric being woven on loom
designs being drawn by hand
batiks being stamped
fabric, ready to be dyed
bowl of cantings (tool used to put wax on the cloth by hand)
display of fabric, ready for us to purchase
We've just returned from a fantastic quilt cruise with Quilt Seminars at Sea to Bali!
Our group traveled to Singapore, where we boarded Holland America's Vista catagory ship, the Volendam. We spent 14 days, sailing around Indonesia, searching for (and buying!) batiks!
We decided to arrive in Singapore a day early and enjoyed walking around Chinatown as well as the Marina.
Sights around Chinatown
Merlion of Singapore, Marina Bay area
Beautiful art as we walked around the city
Beautiful skyline and harbor
After walking around for awhile, it was time to board our ship and sail into our adventure.
After a day of sailing, we arrived at the port of Jakarta.
After leaving the ship, we boarded our tour bus and our first stop was the largest fabric market in Asia! (Floors and floors and floors of fabric!) We "parked" ourselves in the cotton/batik floor.
What do I pick first?
A few members of our group, buying some fabrics
After lots of fabric buying and a lovely lunch, we had one more stop of our tour, a beautiful department store.  We headed to the 3rd floor, which was filled with fabric, clothing and other items. . .  all batiks
Fabric and clothing for sale.  (Love the lamp shades!)