You are currently browsing the monthly archive for June 2016.
I'm looking forward to AQS Quilt Week in Chattanooga in September.  The registration opens June 14th.  . . . and the classes are sure to fill quickly!
I'm teaching some new classes – my new Pick Up Sticks patterns is one of them and I'm crazy about this new quilt.
My Ice Crystals quilt  is another new class.  (Love this quilt!)
Yet another new class is perfect for beginners: Tumbling Blocks Fun!  If you have wanted to learn how to create a tumbling blocks quilt, but were afraid to try it, this is the class for you!
Chip Out of Every Block
and my Transparency class are two more classes I will be teaching.
You can see more information by clicking here: AQS Quilt Week – Chattanooga
I hope you will be able to join us, it is a wonderful location, beautiful convention center and I know we will have a blast in class!
It as been so much fun, following Quiltmaker's 100 Blocks Sew-along!
Here's a link to the very first post, in case you need any of the patterns:
http://www.quiltmaker.com/blogs/quiltypleasures/2016/03/100-blocks-sampler-sew-along-block-1/
I'm honored to have my block, Serendipity, block #656 as part of the sew-along. I love my  block in the 6″ size!
I decided to create it in some bright summer colors.  First, pull some Serendipity fabric, to audition my color choices. I love this fabric, it shades from light to medium to dark, all on one piece of fabric.  No more searching for the perfect light or dark, it's all right here!
I know I'm going to use the golden color, but am not sure if I will add purple with it or the blue.
Hmmm, choices!
Here's the purple with the gold.
and the blue with the gold. . . . I still can't decide!
Well, the only thing to do is to press the fabric, cut out both colors and decide from there.
I've decided to use the blue and gold, just like a summer sky! I also decided to move the shading around, love this option!
Now to sew together.
First, I like to piece all the triangle units together.  I press the seams open and trim off the "ears" to make the piecing a piece of cake.
Piecing together, loving the colors!
Getting the corners sewing together.
All the "units" are together.  Now to sew into rows.
Almost there!
I need to press my block and then I'm all done and I love it!
Thanks Quiltmaker!
Alaska Cruise – August 19 – 26, 2017!
In August, 2017, we will be traveling to one of my favorite destinations – Alaska!  I've been there 3 or 4 times already, but can't wait to go back!
A cruise to Alaska is a perfect way to see this amazing landscape.   We will be traveling to and from Seattle on this 7 day cruise.   There's something wonderful awaiting you in every port of call:
Juneau – In Alaska's capital, taste salmon baked over an alderwood fire, pan for gold, flight-see the Juneau Ice Field, and visit the Mendenhall glacier.
Sitka – Step back to the days of Russian Alaska as you watch lively performances of the New Archangel Dancers and view holy paintings of the Czarists' days. Plenty of wildlife adventures await!
Ketchikan – Immerse yourself in Tlingit Indian culture as you view the world's largest collection of totem poles or kayak the colorful waterfront. Visit Creek Street and see Alaska as the early pioneers did.
Victoria, B.C. – Stroll through the charming downtown of this very British city. Or, just outside the city, visit the lush flora and fauna of Butchart Gardens.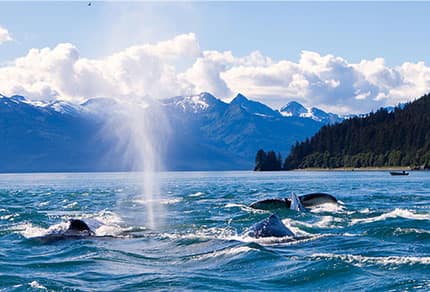 You can play tourist, choosing your pleasure, whether it be walking, touring, flight-seeing or shopping. All the ports we visit are directly in town, and there is a lot to see within walking distance, and the best part. . . quilt shops in every port! (Better take an empty suitcase with you!)
There are a wide variety of classes from which to choose, taught by myself, Laura Wasilowski, Gloria Loughman and Linda J. Hahn.  Sewing machines will be available for your use on board. You will even have the chance to purchase a new machine at a great price!   I've love to have you join us for this fantastic cruise!
For more information about the cruise, classes and ports of call, click here to visit Quilt Seminars at Sea. 
You can contact Amy at Amy@QuiltCruises.com or call 1-866-573-6351.
Have you ever wondered what happens on a "quilting" cruise?  Click here to visit my blog for some details.